VSIL has specialist capabilities in remote infrastructure management. Today, clients use VSIL's services to better align their IT operations & processes to meet business objectives. By outsourcing day-to-day infrastructure management to VSIL, clients are able to unlock their in-house resource potential for strategic work. They save up to 50% of current operational costs while retaining complete control.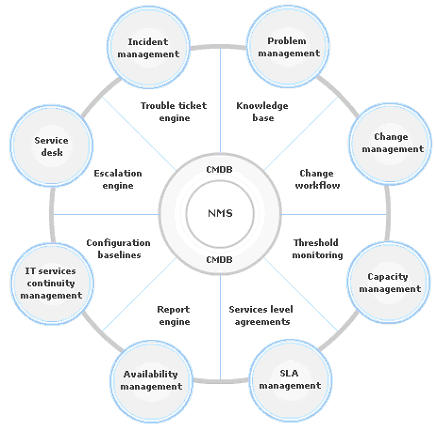 Backed by years of IT experience, the Remote Technology Infrastructure Services (RTIS) of VSIL has delighted customers, seeking services in architecture, strategic consultation, network consultation, storage management and IT integration. A leader and pioneer in global remote infrastructure services, VSIL's Remote Technology Infrastructure Services has a proven track record of delivering superior services and solutions to clients worldwide. .
Moving in step with the swift pace of technology and business, VSIL RTIS provides innovative and custom solutions for infrastructure consulting, system integration, data center management, IT help desk services, IT infrastructure security services, business services management, remote management and telecom infrastructure services for customers spread across the globe.
VSIL leverages its deep expertise and proven transition & delivery methodologies to provide proficient support. Our robust global service infrastructure helps in supporting clients from offshore command centers, on a 24X7X365 basis. Outsource with confidence. Outsource to VSIL. VSIL's processes for infrastructure management conform to the ITIL framework for service management.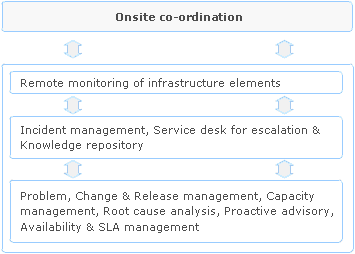 We provide significant cost benefits, by ensuring an optimum mix of onsite & offshore resources.
On an ongoing basis, our pro-active advisory services, helps a client to improve productivity & increase ROIC by optimizing their infrastructure & processes. VSIL understands that IT Infrastructure is the lifeline of a production environment. To minimize risks, most clients prefer a flexible model for selective outsourcing of processes, while maintaining a degree of control on the engagement.